Why Iran Smart Glass?
Provider of smart glass with the highest quality
Back Projection

The ability to play HD quality images using a projector

Energy Saving

Up to 30% reduction in electricity and gas bills with smart glass

Smart House

The ability to connect to all kinds of smart home brands

High Transparency

Smart film with parallel light transmission of 85% using raw materials made in Japan

Instant Privacy

Create privacy in a fraction of a second
Increase Useful Space

By using smart glass, there is no need for walls or traditional partitions

New Technology

Matting smart glass is a new product in the construction industry

Long Life

More than 80,000 hours of operation when the smart glass is on

Easy Installation

No need to install rails or special infrastructure such as installing traditional curtains

Low Consumption

The energy consumption of smart glass is less than 5 watts per square meter
Smart glass frameless partitions are the miracle that solved the problem of lack of office space and private space needed by every employee. With the help of smart glass partitions, you can easily divide office halls into several rooms so that people can take care of their responsibilities in private with high concentration.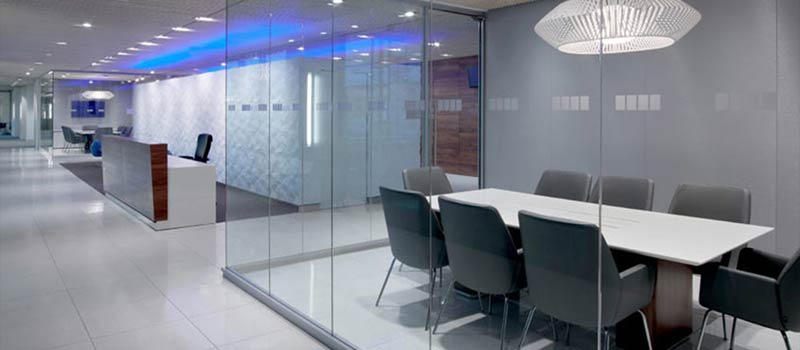 By using smart glasses, it is possible to prevent the passage of harmful ultraviolet rays of the sun (absorbing more than 99% of UV rays) and also more than 60% of IR rays. All these facilities, along with the very low power consumption (5 watts per square meter) of these glasses, have justified the use of this product in smart homes, conference halls, partitions, swimming pools and commercial facades.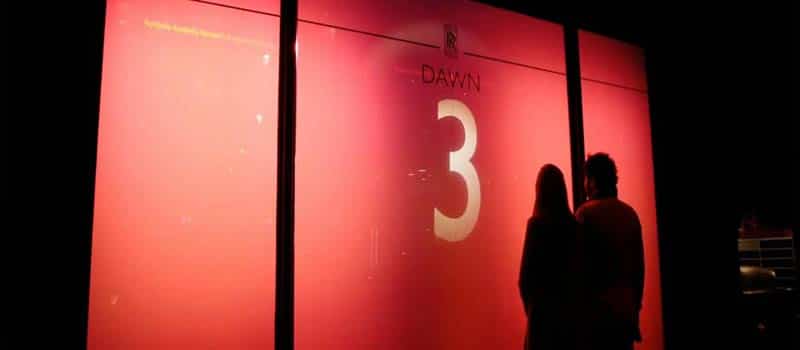 Smart Glass or Switchable Privacy Glass refers to a new generation of glass that becomes opaque and transparent when an electric current is applied. This unique feature can be used well in conference rooms, management, sports halls, swimming pools, sanitary facilities, banks and hospitals.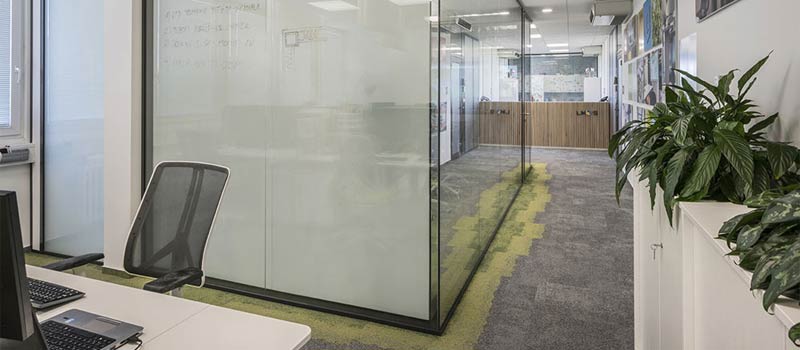 Learn
More About
Smart Glass
The inner layer of smart glass, smart film, consists of several layers of advanced materials that are placed next to each other with high technology, each of which plays a role. The first layers of this smart film are made of PET polymer sheets, which are covered with a very thin layer of a transparent material that conducts electricity. Between two layers of these polymer sheets, a material called PDLC is placed. The constituents of this layer are actually liquid crystals that are completely irregularly distributed in a polymer field, and this irregular distribution causes the light rays to break and make the film opaque.
Now, if an electric current is passed through two layers of electricity conductors, an electric field is formed, which causes the irregular crystals to be placed in a completely regular and aligned manner, which enables the passage of light rays without breaking and directly. In this way, the smart glass is transparent.
2 years warranty
Iranian smart glass products with 2-year warranty and 10-year after-sales service
Professional installation team
Experienced and professional transportation and installation team with implementation of more than 200 smart building projects in Iran
The shortest delivery time
By accurately estimating the aspects of each project, the shortest time for production and installation is offered to customers
What is smart glass? Is there a special gas or liquid inside the smart glasses?
Smart glass comes from the combination of smart and simple film. The smart film is either glued on the glass or laminated between two layers of glass. The smart film is the crystal particles between the two layers of ITO, which align with the electric current, and as a result, the smart film becomes transparent. So there is no gas or liquid in these glasses!
What is the working voltage and power consumption of frosted glass?
The voltage consumption of smart glasses is 65 VAC, and the amount of consumption of smart glasses is approximately 5 watts per square meter.
How to clean smart glass or smart film?
Considering that smart films are vulnerable, to clean smart films, you must gently use a special LCD tissue with water. Do not use strong detergents or sharp objects. Make sure that the end, surface or corners of the smart film are not wet.
Is it possible to make the currently installed glasses at home or workplace smart?
Yes. By using smart film with adhesive back, you can easily make any glass smart. Just contact Iran Smart Glass!
Can smart glasses be used to make the building smart?
Yes, smart glasses can be easily defined on all smart home software.
What is the price of smart glasses and smart film?
The price of smart glass is about twice the price of smart film due to the lamination process and the use of several intermediary layers. To get the price of Iran's smart glass products, please contact the phone number of the sales department.